Bearing Sensor Wire Seals (BSWS) - To Prevent Oil Leakage
Conax Technologies BSWS assemblies were originally designed for use with embedment bearing temperature sensors to prevent oil migrating along the sensor leads. They seal on the individual insulated leads exiting an oil-filled bearing house. They may also be used to seal all types of insulated instrumentation lead wire. These sealing assemblies can be found in large motors, generators, turbines, pumps, compressors and journal bearing pedestals.

Construction consists of 303SST for metallic parts and a sealant made from 'Viton'. Standard assemblies seal 2 to 14 wires in a variety of wire gauges. Please consult Conax Technologies for custom needs.
• Temperature Range: Ambient to +100° F (+37.8° C)
• Pressure Range: to 50 psig (3.4 bar)

The replaceable sealant permits repeated use of the same fitting. Elements can be easily assembled or replaced in the field. To replace the sealant or elements, simply loosen the cap, replace the necessary items, relubricate and retorque the cap. See page 68 of our Catalog 5001C for more information on our BSWS model.

To order a Replacement Sealant, order
RS – (Gland) – (Element Size) – (Number of Holes) – V
Example: RS-BSWS4-20-2-V
How To Order (BSWS)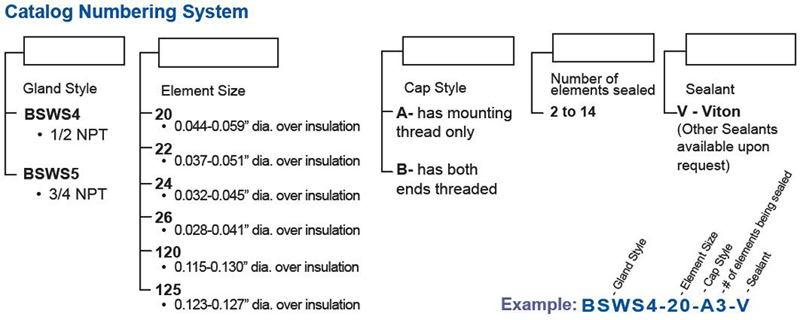 Conax Buffalo Technologies 는
Conax Technologies 의 옛 명칭입니다.
한국 총판 (주)다일아이비씨