(Piezoresistive Pressure Sensors, 압저항식 압력센서)

The HM Series is ideal for high-volume, low and medium pressure, harsh-media OEM applications.
Features
Range : 100 to 500 psi (7 to 34.5 bar; 689.5 to 3,447 KPa)
Type : Absolute; pressurized from cavity side
Media : Air, gasses and liquids that are compatible with silicon and glass
Shipping : Wafers on tape
Flexibility : Sensitivity, resistance, bridge, constraint, etc.
Benefits
Performance : Enjoy best-in-class performance due to Merit's proprietary Sentium technology
Cost : Save money over time with high-performing die
Security : Feel confident doing business with an experienced company backed
by a solid parent company (NASDAQ: MMSI)
Speed : Get to market quickly with creative and flexible solutions.
Service : Experience prompt, personal and professional support.
Specifications
Parameter
Minimum
Typical
Maximum
Units
Notes
Electrical & Environmental
Excitation
 
5
15
V
Maximum: 3mA
Impedance
4000
5000
6000
Ω
Optional: 3,500 +/- 500
Operating Temperature
-40
 
150
°C
Sentium® technology
Storage Temperature
-55
 
160
°C
 
Performance
Offset
-10
0
10
mV/V
Zero pressure; gage only; @25°C
Non-linearity
-0.2
0
0.2
% FSO
Best Fit Straight Line; @25°C
Pressure Hysteresis
-0.1
0
0.1
% FSO
@25°C
Temp Coeff - Zero
-25
0
25
µV/V/°C
-40°C to 150°C
Temp Coeff - Resistance
2300
2800
3300
PPM/°C
-40°C to 150°C
Temp Coeff - Sensitivity
-1500
-2200
-2500
PPM/°C
-40°C to 150°C
Long-Term Stability
-0.2
0
0.2
% FSO
 
Burst Pressure
5X
 
 
 
Full scale pressure
Full-Scale Output (@ 5 volts) Other outputs available upon request
100 psi (6.9 bar; 689 KPa)
120
150
180
mV
 
300 psi (20.7 bar 2,068 KPa)
110
135
160
mV
 
500 psi (34.5 bar 3,447 KPa)
140
175
210
mV
 
Part Details
Dimensions (millimeters, post-cut)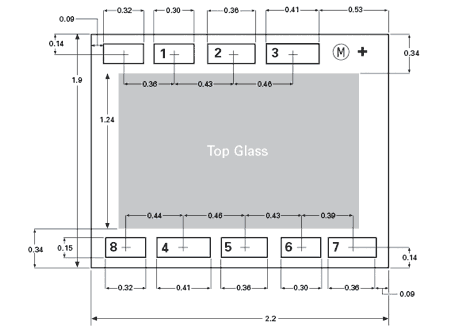 Standard Bond Pad Metallization = Aluminum

Electrical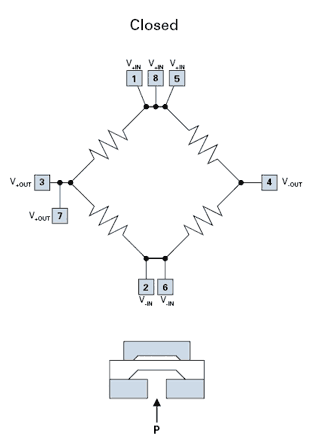 Part Number Configurator

Example:
T1O-0300-A1T offers 5kohm Impedance, Open Bridge, 100 psi and Absolute Constraint
Standard Part Numbers
T1O-0300-A1T
T2O-0300-A1T
T1O-0090-A1T
T2O-0090-A1T
T1O-0070-A1T
T2O-0070-A1T
T1H-0300-A1T
T2H-0300-A1T
T1H-0090-A1T
T2H-0090-A1T
T1H-0070-A1T
T2H-0070-A1T
T1C-0300-A1T
T2C-0300-A1T
T1C-0090-A1T
T2C-0090-A1T
T1C-0070-A1T
T2C-0070-A1T
Note:
"T" in part number = sawn wafer on tape in metal frame

Merit Sensor Systems 한국대리점 (주)다일아이비씨